It was such a great honor to present a session as Speaker at a National webinar organized by Birla College, Kalyan – Mumbai University.
Being an alumnus, was a proud moment for me! Banners were circulated as a shout over social channels.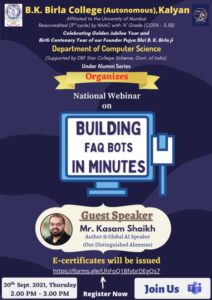 The topic was Building FAQ Bots in Minutes. here I presented the attendees with
AI and Machine Learning as Big Picture
Conversational AI
QnA Maker Service
Azure Bot Service
And a live Demo
The session was full-packed with 270+ students and was overwhelmed to see 200+ students joining the session before time. The session concluded with the interesting questions put on by the students, on Azure usage, subscription, QnA Maker, AI, and Bots.
A vote of thanks was presented, which really meant to lot for me.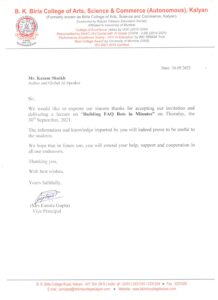 One of my proud memorable days. Looking forward to having more such sessions in near future.
Thank you for reading.