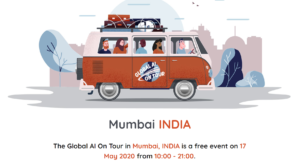 Super excited to announce, this year, 2020, I am organizing the Virtual Global AI on Tour 2020 event hosted at DearAzure | AZ-INDIA  AzureAI Community on Sunday,  17 May '20, from morning 10:00 AM IST to 09:00 PM IST.
The Global AI On Tour is a free event organized across the world in April, May, and June by local communities that are passionate about artificial intelligence on Microsoft Azure. The online event takes place in April, May, and June 2020 with venues on every continent. The Global AI On Tour is centrally managed by our HQ in the Netherlands with support from Microsoft.
The event is a perfect balance of quality content, awesome talks, and hands-on learning with like-minded peers in your community. And many many more.
Here is the agenda for the full-day virtual event.
SESSION #1 | 12:00 PM IST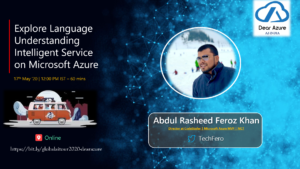 Explore Language Understanding Intelligent Service on Azure
By, Abdul Rasheed Feroz Khan – Director at CodeSizzler | Microsoft MVP Azure & MCT
The session would be an end-to-end scenario will be discussed with implementation points on how to work with images on AI and how to use Cognitive Services to identify objects, tags, and set description for the same.
SESSION #2 | 01:30 PM IST
How to design Next Generation Document Search Azure Bot with MS Team & AI Services
By, Manoj Mittal – C# Corner MVP
Usually, the bot is used for text-based intelligent conversation, The session would demonstrate how to extend bot capability to cognitive document search level.
SESSION #3 | 03:00 PM IST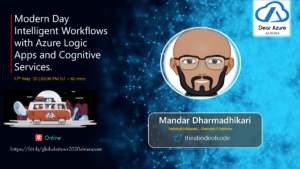 Modern Day Intelligent Workflows with Azure Logic Apps and Cognitive Services
By, Mandar Dharmadhikari -Technical Enthusiast | Chamonix IT Solutions
The session would demonstrate how easily and effortlessly we can build integration solutions for modern-day using Logic Apps and Azure Cognitive Services.
SESSION #4 | 05:30 PM IST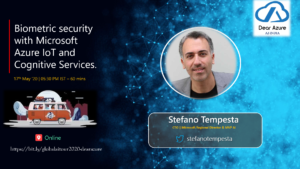 Biometric security with Azure IoT and Cognitive Services
By, Stefano Tempesta – CTO | Microsoft Regional Director & MVP
This session presents a specific usage of custom authorization policies in ASP.NET Core for restricting physical access to buildings when an unauthorized intrusion is detected. IoT-enabled CCTV cameras are used for transmitting captured data to an IoT Hub in Azure, Cognitive Services recognize the face and voice of the person requesting access to the site, and if an intrusion is detected, its severity is assessed by an anomaly detection service built-in Azure Machine Learning. In the end, an API authorizes access by sending a confirmation code back to the door's lock via the IoT Hub.
SESSION #5 | 07:00 PM IST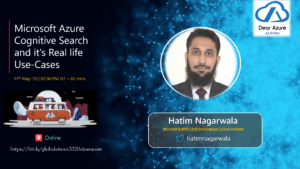 Azure Cognitive Search and Real-life Use Cases using Cognitive Search
By, Hatim Nagarwala – Microsoft AI MVP | Full Stack Engineer | Cloud Architect
In this demo focused session, we will discuss the AI-powered search service for mobile and web development platforms. We will also have a look at real-life scenarios of using the service in your existing applications by developing a custom skill. We'll discuss tons of AI concepts, like the ingest-enrich-explore pattern, skillsets, cognitive skills, natural language processing, computer vision, and beyond.
SESSION #6 | 08:30 PM IST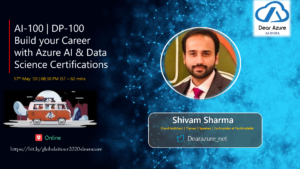 AI-100 | DP-100  Build your Career with Azure AI & Data Science Certifications
By, Shivam Sharma – Cloud Architect | Trainer | Speaker | Co-Founder at TechScalable
In this session, we will explore how to build your career in AI and Data Science. We will also go through the AI-100 & DP-100 certification learning path along with the demo to build a Custom AI Model using Python.
SESSION #7 | 10:00 PM IST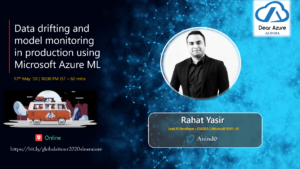 Data drifting and AI Model monitoring in production using Azure ML
By, Rahat Yasir – Lead AI Developer – OSEDEA | Microsoft MVP – AI
In this session, we will talk about what is data drifting and model monitoring, how to monitor any models in production, and what are the ideal criteria to follow to design an automated model monitoring approach in Azure ML
Looking forward to meeting you all
Happy AzureAI learning!