Greetings Reader, hope you are in good health.
I have an ? announcement to make, I have decided to give away a few copies of my book, Microsoft Azure for .Net Core Developers, for free !! ?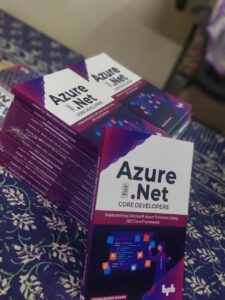 These copies will be given to the ones who have lost their job due to covid19 – pandemic situation, and are willing to ?‍? upgrade their skills set with Cloud – Microsoft Azure but struggling financially to invest.
No favor, but a sense of responsibility towards the community ?
If you are the one, I mentioned above, please present with your details below: ( Rest assured; your privacy will be maintained )
Others too can contribute to this cause by,
?  Donating the book – You can fill details in the above Microsoft Form ( Select 'to Donate' for Question# 4)
?  Sharing the post, for wider reach.
Hope this small thought would be beneficial for spiring Cloud professionals.
As a start in your learning journey, please visit my YouTube Channel for Azure related videos.
Best of luck for your bright future ahead.
Happy Azure Learning!