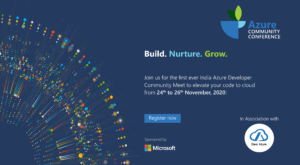 Dear Azure is glad to host "????? ????? ????????? ?????????? ????" a 3-day multi-track virtual conference that will be held on 24-26th November 2020 where you get to learn the open-source and cloud-native technologies on Microsoft Stack.
India Microsoft Azure Community Developer Conference 2020 is a 3-day multi-track virtual conference between 24-26 November 2020. The event will offer a combination of interactive talks, lightning talks, workshops, and panel discussions. The conference is aimed at Cloud and Web Developers working with open source and cloud-native technologies on the Microsoft Stack.
The Conference will host technology experts from India and around the globe to educate, network, and share their expertise with our global attendees on,
.NET
Architecture & Design
Back-End and Front-End
Serverless and Cloud-Native
Micro- Services
Event-Driven solutions
Cloud
Kubernetes / Containers/ K3S
Mobile
Web
Open Source
Data Science, AI, and Machine Learning
Ethics in software development
Modern development practices
Testing
Continuous Delivery
DevOps
Tools for software development
Software methodology and process
Teams, people, roles, and how we work.
Product development
Experience Reports
Project and incident postmortems
Edge, IoT, and hardware
AR/VR
Functional Programming
Programming Languages.
And everything else…
Community-based learning is the best way to enhance the concepts being discussed by connecting with tech enthusiasts and experts on a live platform. Learn from shared first-hand experiences adding familiarity with accessible examples.
All skill levels are welcome to help accomplish our motto of learning, sharing, and networking. Let's join hands to empower the Technology Community to make it bigger and better!
Looking forward to have your active participation.
Happy Azure Learning!